Secretary Scott Convenes Second Border Trade Advisory Committee Meeting of 2022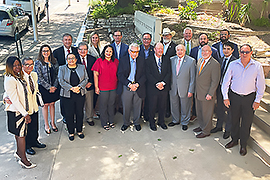 Secretary Scott with 2022 BTAC members.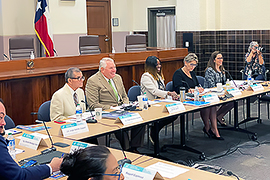 Secretary Scott convenes the second Border Trade
Advisory Committee (BTAC) meeting of 2022.
AUSTIN — Texas Secretary of State John Scott today convened the second Border Trade Advisory Committee (BTAC) meeting of 2022 in coordination with the Texas Department of Transportation (TxDOT). BTAC is composed of public and private sector stakeholders from throughout the Texas-Mexico border region who work to identify and advance solutions to cross-border infrastructure challenges.
During the Committee meeting, Secretary Scott received an update on several key TxDOT activities relating to cross-border trade with Mexico, including:
TxDOT's ongoing study of the potential impacts of automated driving systems, as required by SB 1308 (PDF) passed during the 2021 Legislative Session;
Preliminary findings from the ongoing Nearshoring Study examining the impacts of companies moving supply lines away from Asia and to the U.S.-Mexico border region;
Implementation of Texas' Border Trade Master Plan (BTMP) (PDF) and associated policies, programs and projects; and
Corridor studies for the US 57 Corridor serving the Eagle Pass Port of Entry and the US 83 Corridor connecting the Rio Grande Valley to Laredo.
Officials from Nuevo León and Coahuila also provided the Committee with detailed updates on regional infrastructure projects that impact cross-border trade at Texas' commercial crossings with Nuevo León and Coahuila.
"It's more important than ever that we maintain strong relationships with the Mexican states that border Texas so that we can align our transportation infrastructure priorities for the coming years and decades," Secretary Scott said. "Communication with our Mexican partners is critical for us right now to maintain secure and efficient flows of commerce, and address issues when they arise. I look forward to continuing to work with our friends in Chihuahua, Coahuila, Nuevo León and Tamaulipas as we continue to see Texas-Mexico trade volumes surpass pre-pandemic levels."
Learn more about the Border Trade Advisory Committee (BTAC).
Learn more about the Texas Border & Mexican Affairs division of the Texas Secretary of State's office.
###