Employment Opportunities
Welcome to the Office of the Secretary of State Employment Opportunities home page. We appreciate your interest in our employment opportunities. This Office does not discriminate on the basis of race, color, national origin, sex, religion, age or disability in employment or the provision of services.
Application Process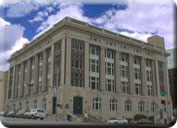 The Human Resources Department (HRD) of the Office of the Texas Secretary of State (SOS) is located at 1019 Brazos Street in Austin. The HRD posts all job vacancies and makes all job offers.
The job posting will include instructions about additional information that may be required to be submitted with your application. Failure to submit the required information with your application will invalidate your application.
If you have any questions about these procedures, please call the HRD at (512) 463-8000 or send us an e-mail. We will be happy to guide you through the process of submitting your application electronically. Hearing impaired individuals may contact our office via Relay Texas at 1 (800) 735-2989 (TTY/TDD).
How to Apply
The State of Texas Application for Employment: Applicants should submit The State of Texas Applications for Employment electronically through WorkInTexas (WIT) or through the Centralized Accounting and Payroll/Personnel System (CAPPS) Career Section for each job posting. Local TWC offices and public libraries have computers available to the public.

Clerical Testing: Some positions may require testing on typing, spelling, numeric filing, and 10-key ability. If testing is required, applicants must contact the HRD to schedule an appointment for testing. Testing is conducted Monday through Friday, 8:30 a.m. to 4:00 p.m. by the HRD. We do not accept test scores from other agencies.

Writing Sample: Some positions require a writing sample as part of the application. The requirement will be stated in the job posting. If a writing sample is required, please email your writing sample to the HRD. The format of the e-mail subject line and file name must be as follows: JP#_ Lastname_Firstname__WS (for example JP8877961_Doe_John_WS). An electronic application without an accompanying writing sample, if required, will be considered incomplete.

High school/college transcript: Other requirements that may be listed in a job posting include high school, unofficial college transcript(s), and/or proof of certification. If you are selected for an interview, you may be required to bring this information to the interview. If a transcript is required, please email your transcript (in PDF format) to the HRD. The format of the e-mail subject line and file name must be as follows: JP#_ Lastname_Firstname__Transcript (for example JP8877961_Doe_John_Transcript). An application without an accompanying unofficial transcript, if required, will be considered incomplete.

Occupational Licenses/Certifications: Applicants applying for a professional position must list all license numbers and/or memberships in the Occupational License/Certification section of the state application. The Summary of Qualifications section of the WorkInTexas resume is available to provide information on professional activities and associations, authorship or articles/books and participation as a CLE presenter or panelist.
Job Postings
We accept The State of Texas Application for Employment for "Open" positions only. To view our current postings, go to WorkInTexas and click on "find state jobs" or if the position is open click on a Job Posting ID below. You must have an account to submit an application.
Employer Posting ID
Posting ID
Class Number
Job Title
FLSA Status
Salary Group
Monthly Salary
Section
Closing Date
Status

Open: Accepting applicationsHold: Not accepting new applications. Pending review of received applications

Veteran Hold: Position currently only available to veterans




There are no current employment listings. Please check again later.



Interview
We will contact you to schedule an interview. All applicants will be notified of non-selection in writing.
Equal Employment Opportunity
The Office of the Texas Secretary of State is an equal opportunity employer and does not discriminate on the basis of race, color, religion, gender, national origin, age or disability. The SOS is in compliance with the Americans with Disabilities Act. If you need any special accommodations during the employment process, please contact the HRD for assistance at (512) 463-8000.
Veterans Preference
The SOS adheres to the Texas Veterans Preference Act ("Act"). Any complaints about the SOS's failure to comply with the ACT should be reported to the manager of the HRD at (512) 463-8000.
Selective Service Registration
For men 18 to 25 years of age, an offer of employment is contingent upon proof of registration with, or exemption from, the Selective Service System on the first day of employment. Online registration and proof of registration is available from the Selective Service System.
E-Verify
The Office of the Texas Secretary of State participates in E-Verify. We will provide the Social Security Administration (SSA) and, if necessary, the Department of Homeland Security (DHS), with information from each new employee's Form I-9 to confirm work authorization.
Secretary of State Intern Program
The Texas Secretary of State Intern Program gives students and recent graduates the opportunity to experience state government first hand by working with staff in the Office of the Secretary of State. This program will give students experience in working at the Capitol and enhance their appreciation of public service. Interested students should download and complete the Intern Employment (PDF) or the Intern Employment (Word) application and send it to employment@sos.texas.gov along with their resume.