En Español
Biography of Secretary of State Jane Nelson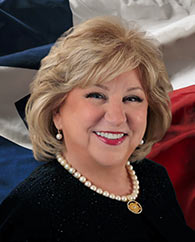 Jane Nelson was appointed the 115th Texas Secretary of State by Governor Greg Abbott on January 5, 2023.
Secretary Nelson is a businesswoman and former teacher who served two terms on the State Board of Education and 30 years as a State Senator representing North Texas.
The first woman in Texas legislative history to chair a standing budget-writing committee, Secretary Nelson was Chair of the Senate Finance Committee for four sessions. She was a member of the Senate State Affairs Committee, which oversees election policy, for eight sessions. She served as chair of the Sunset Advisory Commission, the Nominations Committee, the Select Committee on Cybersecurity and the Senate Health & Human Services Committee. She was also a member of the Legislative Budget Board, the Legislative Audit Committee and the Privacy Protection Advisory Council.
In addition to writing four balanced state budgets, Secretary Nelson has a long list of accomplishments, including establishing the Cancer Research & Prevention Institute of Texas (CPRIT), reforming medical liability, achieving tax relief, overhauling the foster care system, expanding access to mental health care, and passing over 30 bills to protect victims of domestic violence, sexual assault, and human trafficking.
Her work has been recognized with dozens of awards, including from the American Medical Association, American Cancer Society, Texas Association of Business, Texas Council on Family Violence, CASA, Texas Hospital Association, Big Brothers & Big Sisters, Texas PTA, Texas Retired Teachers Association, the Women's Health Coalition and many others. She has a 100% voting record in support of Texas small businesses.
Secretary Nelson and her husband, J. Michael Nelson, owned and operated an aircraft component manufacturing company in Denton County. They have five children and 12 grandchildren.