Secretary Hughs Convenes Statewide Agency Roundtable Discussion On 2020 Census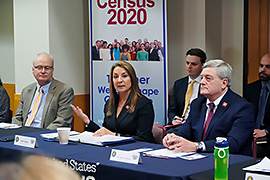 (Secretary Hughs convenes the statewide agency
r oundtable on the 2020 Census. Office of the
Texas Secretary of State, 12/11/2019)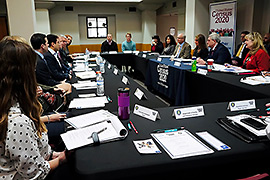 (Representatives from Texas state agencies engage
in discussion around collaborative efforts to count
all Texans in the upcoming census. Office of the
Texas Secretary of State, 12/11/2019)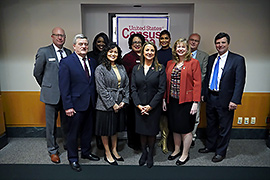 (The Secretary poses for a photo with USCB Director
Dr. Steven Dillingham, Texas State Demographer
Dr. Lloyd Potter, and their staffs. Office of the
Texas Secretary of State, 12/11/2019)
AUSTIN - Texas Secretary of State Ruth Hughs today convened a roundtable discussion of state agencies to coordinate efforts with the U.S. Census Bureau (USCB) to achieve an accurate count of all Texans in the upcoming 2020 Census. The Secretary was joined by USCB Director Dr. Steven Dillingham, Texas State Demographer Dr. Lloyd Potter, as well as representatives from various state agencies and the Texas Legislature.
"The census plays a major role in determining the distribution of federal funds to the Lone Star State in areas such as healthcare, education, agriculture, and infrastructure and housing, as well as determining the size of our congressional delegation," said Secretary Hughs. "That's why it's imperative that we work collaboratively towards finding ways that our state's agencies can help to ensure that we count all Texans in the upcoming census."
Learn more about the 2020 Census, USCB and Texas Demographic Center.
###