Secretary Cascos meets new Nuevo Leon Governor
October 7, 2015
Contact: Alicia Pierce or Mari Bergman
512-463-5770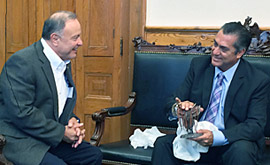 Austin, TX — This week, Texas Secretary of State Carlos Cascos met with the new Governor of the Mexican state of Nuevo León Jaime Rodríguez in the capital city of Monterrey on the governor's first full day in office following his inauguration.
"My meeting with Governor Rodríguez reflects the important connection Texas and Mexico share as neighbors and trading partners," said Secretary Cascos. "I believe my visit sets a tone with the new leadership that we want to build a mutually beneficial relationship."
Governor Rodríguez is the first independent candidate elected as governor in a Mexican state. Secretary Cascos was invited as a representative of Texas to attend the historic inauguration and was the first foreign dignitary to meet with the new governor.
Secretary Cascos sees this week's meeting as a first opportunity to strengthen the state's relationship with the leadership in Nuevo León, a Mexican state directly bordering Texas.
"I have invited Governor Rodríguez to visit Texas, and I hope to welcome him here soon," said Secretary Cascos.
Nuevo León is the third most industrialized state in Mexico. One of its municipalities, San Pedro Garza García, has the second highest per capita income in Mexico, second only to Mexico City.
The industrial structure of the state includes oil refining and heavy and light manufacturing. Nuevo León is one of Mexico's leading producers of iron, steel and chemicals, and Monterrey is home to many large manufacturing companies.
###