Nandita Berry sworn in as Texas Secretary of State
January 7, 2014
Contact: Alicia Pierce or Jeff Hillery
512/ 463-5770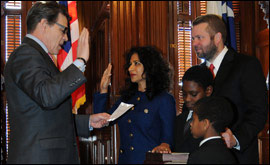 AUSTIN, TX – Today, Nandita Berry was sworn in by Gov. Rick Perry as the 109th Texas Secretary of State.
"I am honored to be appointed by Gov. Perry and look forward to serving Texas as secretary of state," said Secretary Berry.
The Texas Secretary of State is one of six state officials who comprise the executive department of the state of Texas. The duties of the office are wide-ranging and include serving as the chief election officer for the state, the governor's liaison on border and Mexican affairs, and Texas' chief protocol officer for state and international matters. Additionally, the office manages the business and public filings for Texas.
Secretary Berry is the first Indian-American to hold the office. A graduate of Mt. Carmel College in Bangalore, India, Berry subsequently received a bachelor's degree from the University of Houston. She earned a law degree from the University of Houston Law Center.
"I am honored to serve the people of Texas, and this is my way of saying thank you to the state that has given me so much," said Secretary Berry. "Texas truly is a land of opportunity."
Prior to her appointment, Secretary Berry was senior counsel at Locke Lord LLP in Houston. She was formerly in-house counsel for a Fortune 500 company.
Secretary Berry has a distinguished record of civic service. She was vice chair of the University of Houston Board Of Regents and sat on the boards of the Houston Zoo Inc., South Asian Chamber of Commerce, Houston Area Women's Center, and the Community Family Center of Houston.
Berry and her husband, Michael, live in Houston with their two children.
###